To WiFi 6 or to WiFi 6E? – MBReviews
The Zyxel NWA220AX-6E is a part of the newest WiFi 6E access points series which allows Zyxel to directly compete with the other brands that have already released their WiFi 6E flagship APs, despite the demand not quite being there yet. And this specific model is not the flagship WiFi 6E access point (that's the WAX640S-6E), but the more practical device, seemingly suitable for SMBs where the budget is a bit more limited.
Even so, the Zyxel NWA220AX-6E is a tri-band WiFi 6E access point which supports OFDMA, BSS Coloring, WPA3, as well as the new 6GHz radio band, all that while also keeping a surprisingly affordable price tag. But there's a catch. The Zyxel NWA220AX-6E is actually a dual-radio access point, so you can't use the 5GHz band at the same time as the 6GHz.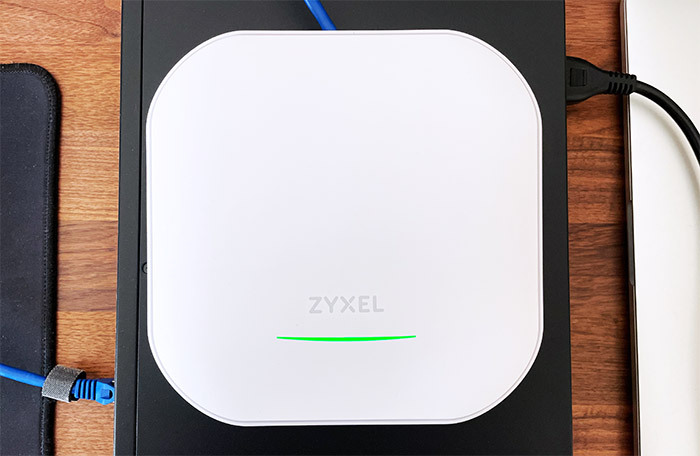 It does seem that the antennas are shared between the 5GHz and the 6GHz (as well as the chip) and it would have needed a more powerful CPU to handle the simultaneous throughput from 3 radios. Unfortunately, this makes the Zyxel NWA220AX-6E one of the few WiFi devices that isn't backwards compatible, so who exactly is the targeted audience? It's mostly (smaller) businesses and it's some form of futureproofing. At the moment the WiFi 6E client devices get widespread enough as to warrant a complete switch, you only turn on the 6GHz radio and you're good to go.
Let's not forget that larger companies don't change the hardware that often and the ability to flip a switch and be up to date is appealing. But things can get complicated because new technologies emerge and Zyxel would have to keep the device updated for a very long period of time, plus there's the risk of being overshadowed by the WiFi 7 standard which will already enter the market next year. So yes, the Zyxel NWA220AX-6E takes a bit of a gamble, but even so, let's put it to the test and see how it performs.
Design and Build Quality
The Zyxel NWA220AX-6E is only a little bit thicker than the WAX630S, so it's nice to see that the manufacturer has kept the new line of WiFi 6E access points as compact as possible (especially since the WAX650S was a beast of a device).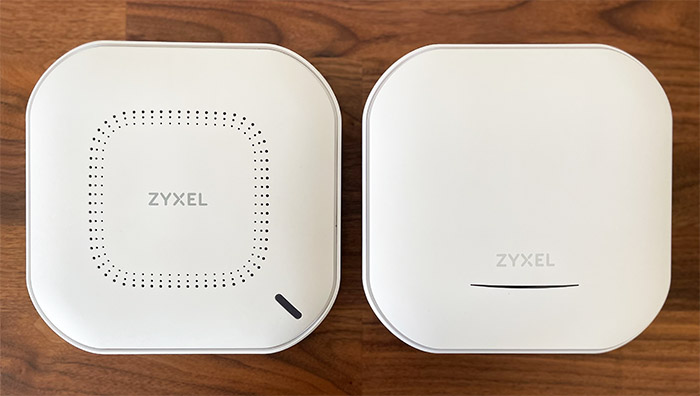 So yes, at 7.09 x 7.09 x 1.65 inches (or 18.0 x 18.0 x 4.2 cm), the Zyxel NWA220AX-6E is not going to stand out that much from the ceiling. That's also due to the white matte finish and because the top of the access point has gotten simpler. The punctured holes design is gone and so is the side LED which is not replaced by a curved line underneath the logo. And that's all that's going on at the top of the device. At the bottom, the Zyxel NWA220AX-6E is pretty much identical to the WAX630S, so we get the punctured holes pattern to help with the heat diffusion a little bit.

Of course, I did check the actual heat management using a thermal camera and you can see the results yourself. There are some spots where the temperature is a bit higher (where the chips push the heat outwards), but overall, there are no signs that the AP may overheat.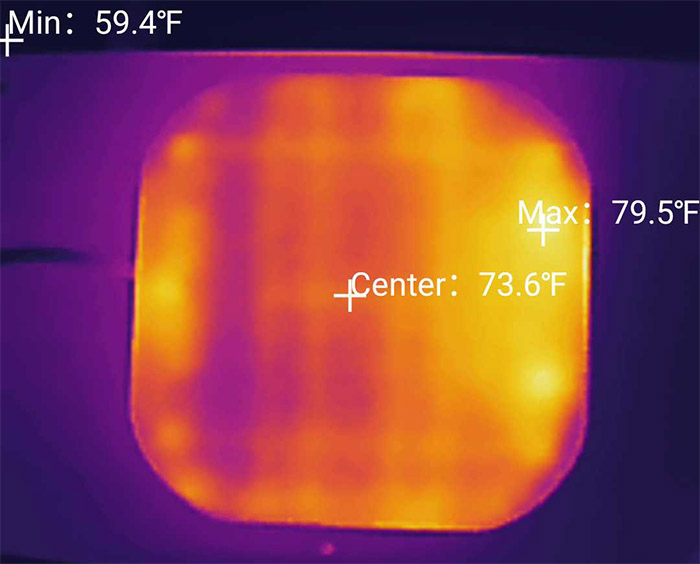 Still on the bottom of the device, we can see the same pattern for mounting the bracket as on the WAX630S (the plastic bracket can be found inside the package). Know that this is a ceiling-mount-only AP, so I advise against attempting to leave it on the desk since it will most definitely fall off (I suppose it is possible to install it on a wall). Next to the bracket area, there is a grounding screw and a recessed Reset button plus an entire area for the ports and connectors.
There are two LAN ports which is a rarity for this type of access point, the Uplink port being 2.5GbE (and supports PoE+), while the LAN1 Ethernet port is Gigabit only and it should be a great addition for any nearby client device that requires a more stable connection to the Internet (via cable, of course). There is also a DC 12V power connector and I know that some manufacturers have begun phasing it out (Ubiquiti), so it's nice to see it still present on the Zyxel NWA220AX-6E. If you look closely on the sides, you can see the same Console connector as on the WAX630S and the WAX650S that's there for diagnostic purposes.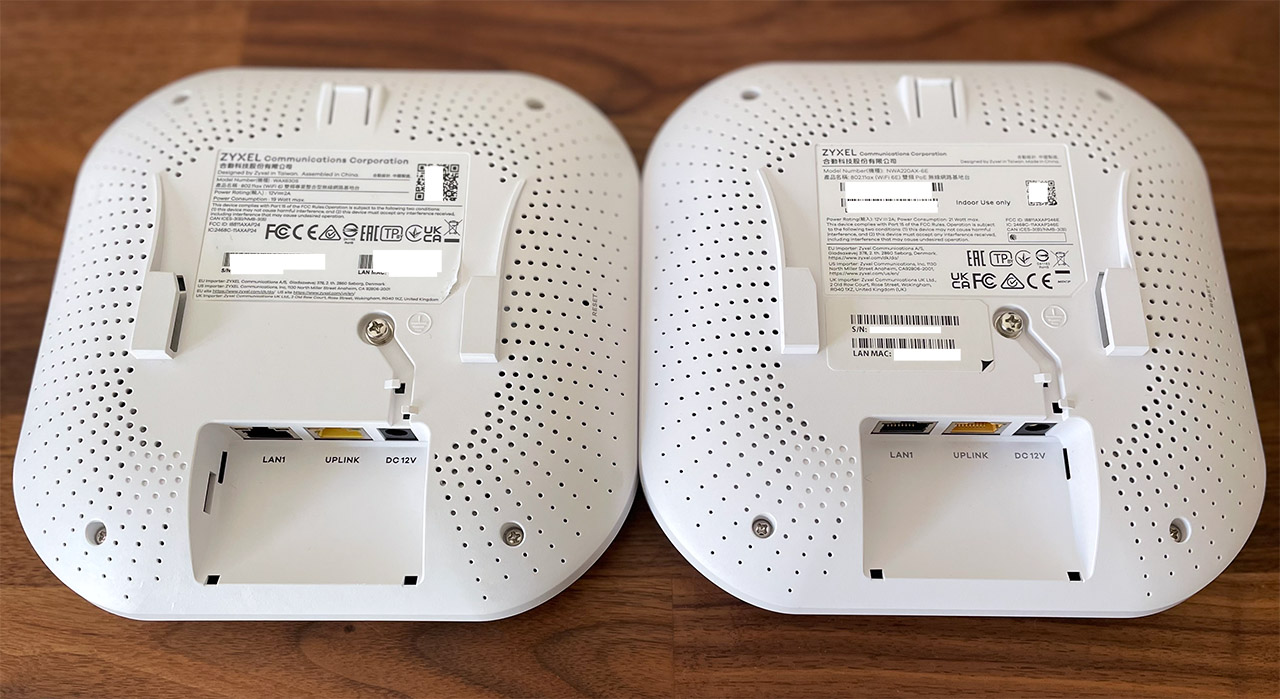 Before moving on to the teardown process, let's talk a bit about the LED. Its functions are the following: if the LED is soldi green, then the AP is connected to the NCC and there are client devices connected, and if it became bright blue, then there are no client devices connected. If the LED starts flashing blue, then the Zyxel NWA220AX-6E is running a Channel Availability Check with DFS and, if it's solid red, then the AP has failed to boot up or is experiencing a system failure. Be aware that slow flashing red doesn't mean an error, but that the Uplink connection has been disconnected (no Internet). As a side note, I have to mention that I got a PoE adapter in a separate package.
Internal Hardware (Zyxel NWA220AX-6E Teardown)
The teardown process for the Zyxel NWA220AX-6E is very simple since all I had to do was to take out the four screws from the back panel (the grounding screw doesn't need to be removed) and then I used a prying tool to detach the top cover.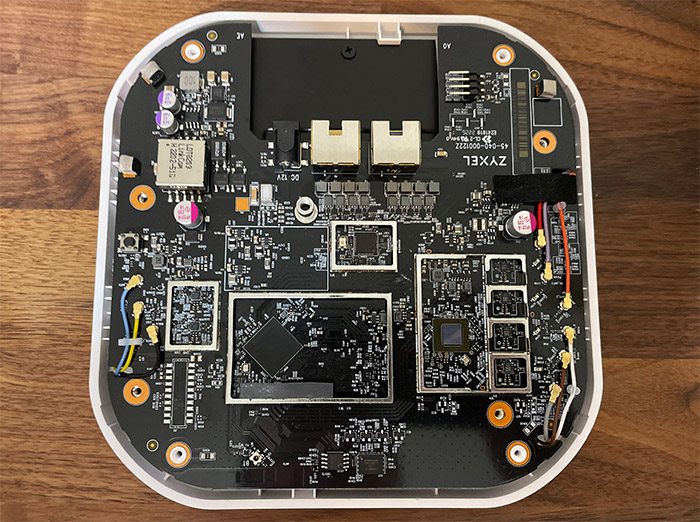 Doing so, I was able to see that Zyxel has added a large metallic heatsink that curves around the plastic case and a smaller metallic heatsink that gets in direct contact with the main chips (by direct I mean through some pads and a few aluminum covers). As for the chips, I could identify 512MB of NAND flash memory from Winbond (25N02JWZEIF) + 8MB of NOR flash also from Winbond (25Q64JWSIQ), the Qualcomm QCA8081 PHY controller and the dual-core 1GHz Qualcomm IPQ5018 CPU which I have also seen on the Ubiquiti U6-Pro and the TP-Link EAP670 (both good performers).
The RAM can be found on the underside of the PCB underneath a protective band – we're dealing with 2x 512MB of RAM from Micron 2CP75 D9SGQ (1GB in total). As for WiFi, I could identify the Qualcomm QCN9024 802.11ax 4×4:4 for the 6GHz radio, same as on the EnGenius ECW336 WiFi 6E access point and while I am not an electrical engineer, after following the pattern of the antennas, it does seem that the same chip is also responsible for the 5GHz as well (awaiting potential future correction) – there are also 4x CMP4 front-end modules as well as 2x AAT3152IWP-T1 DC regulators.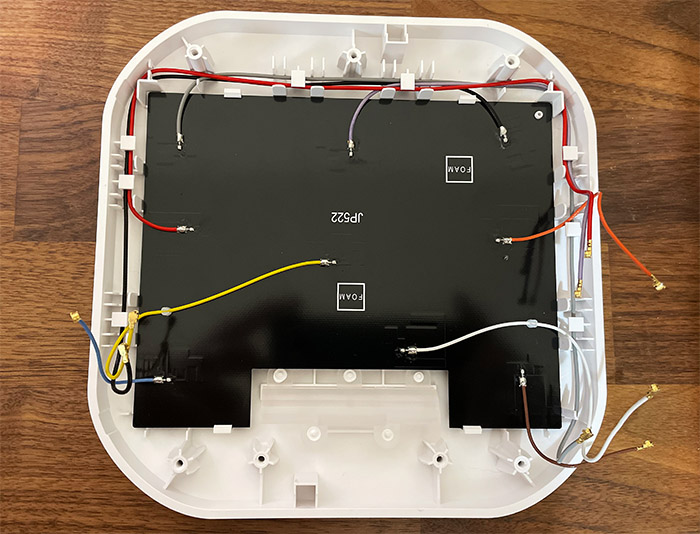 As for the 2.4GHz band, it uses the 2x Qorvo QPF4211 CCFC front end modules. I have detached the PCB to check what's underneath and I could see another large metallic heatsink that covers a very interesting antenna pattern.
Zyxel NWA220AX-6E vs WAX630S vs WAX650S vs ECW336
| | | | | |
| --- | --- | --- | --- | --- |
| | Zyxel NWA220AX-6E | EnGenius ECW336 | Zyxel WAX630S | Zyxel WAX650S |
| CPU | dual-core 1GHz Qualcomm IPQ5018 | quad-core 2.2GHz Qualcomm IPQ8072A | quad-core 1GHz Qualcomm IPQ8071A | quad-core 2.0GHz Qualcomm Atheros IPQ8072A |
| RAM | 1GB (2x) Micron 2CP75 D9SGQ | 1GB Samsung (SEC216 K4A8G16) | 1GB Samsung (SEC110 K4A8G16 5WCBCI0) | 512MB Nanya (NT5CC256M16ER-EK) |
| Storage | 512MB Winbond 25N02JWZEIF + 8MB Winbond 25Q64JWSIQ | 256MB Winbond (W29N02GZBIBA) | 256MB MXIC (MX30UF2G18AC-TI) | 512MB Winbond (W29N02GZSIBA) |
| Switch | Qualcomm QCA8081 | Marvell AQrate AQR114C GEN4 PHY | Qualcomm QCA8081 / Atheros AR8033 | Atheros AR8033-AL1A / AQrate AQR114C Gen 2 |
| 6GHz Radio | Qualcomm QCN9024 802.11ax 4×4:4 | Qualcomm QCN9024 802.11ax 4×4:4 | – | – |
| 5GHz Radio | Qualcomm QCN9024 802.11a/n/ac/ax 4×4:4 | Qualcomm Atheros IPQ8072A (QCN5054) 802.11a/n/ac/ax 4×4:4 | Qualcomm Atheros IPQ8072A (QCN5054) 802.11a/n/ac/ax 4×4:4 | Qualcomm Atheros IPQ8072A (QCN5054) 802.11a/n/ac/ax 4×4:4 |
| 2.4GHz Radio | Qualcomm Atheros IPQ5018 802.11b/g/n/ax 2×2 | Qualcomm Atheros IPQ8072A (QCN5024) 802.11b/g/n/ax 2×2:2 | Qualcomm Atheros IPQ8072A (QCN5024) 802.11b/g/n/ax 2×2:2 | Qualcomm Atheros IPQ8072A (QCN5024) 802.11b/g/n/ax 4×4:2 |
How easy it is to repair?
| | |
| --- | --- |
| 8.5 10 | This score means that it's easy to access the inside of the device and to replace most of the components. |
Wireless Features: 6GHz or 5GHz?
The Zyxel NWA220AX-6E suffers from dual personality disorder since it can behave as either a WiFi 6 access point or as a WiFi 6E AP, but not both at the same time. That means that at the moment, unless you have the large majority of your client devices already on the newer WiFi 6E standard, you're pretty much forced to disable the 6GHz and only use the 5GHz radio. This is why I think it may be wiser to see the Zyxel NWA220AX-6E only as a WiFi 6 access point, at least at the moment.
That being said, if you're one of those people that has managed to change the WiFi adapters to all your client devices so that all are WiFi 6E, then know that the 6GHz radio is a phenomenal new addition. Unlike the 2.4GHz and the 5GHz, the channel bandwidth is far wider so even if you're going to use the 160MHz (which I suggest you do), then the available non-overlapping channel rises to seven. This translates to better signal, better throughput and less interference which is pretty much the goal of any WiFi standard upgrade.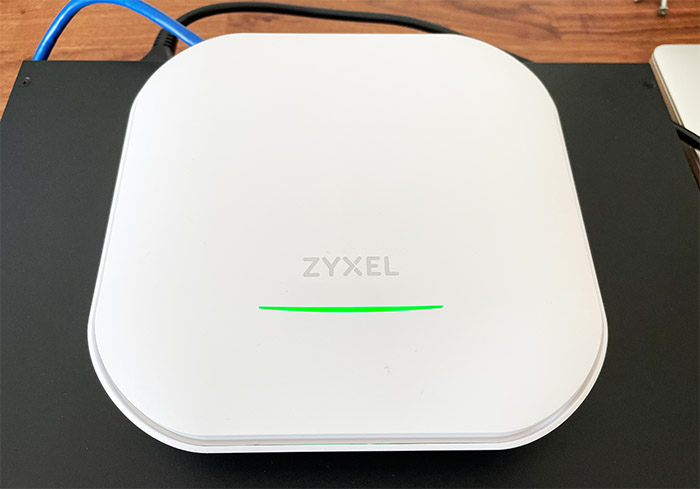 When you're using the Zyxel NWA220AX-6E as a WiFi 6 AP, you're still getting access to OFDMA, MU-MIMO and even BSS Coloring. I am not going to get into much detail, but just know that most of these new technologies and even the older ones, such as MU-MIMO require compatible client devices otherwise you're not going to see any actual improvement. Additionally, know that OFDMA will show its potential if the access point operates in a very crowded and dense WiFi environment. As for the antenna gain, the 2.4GHz band supports a peak gain of 3dBi, the 5GHz can go up to 5dBi and the 6GHz supports a peak antenna gain of 6dBi.
Wireless Test (5GHz)
I said in the hardware section that I suspected that the 5GHz and the 6GHz are handled by the same chip and, after testing the Zyxel NWA220AX-6E, I am fairly sure I was right. That's because the performance has been phenomenal on both radio bands. We'll first start with the 5GHz. I connected the Zyxel NWA220AX-6E to the Zyxel XS1930 multi-Gigabit switch which was connected to the Asus RT-AX86U and a server PC that had a 2.5GbE port, so there should be absolutely no bottleneck anywhere.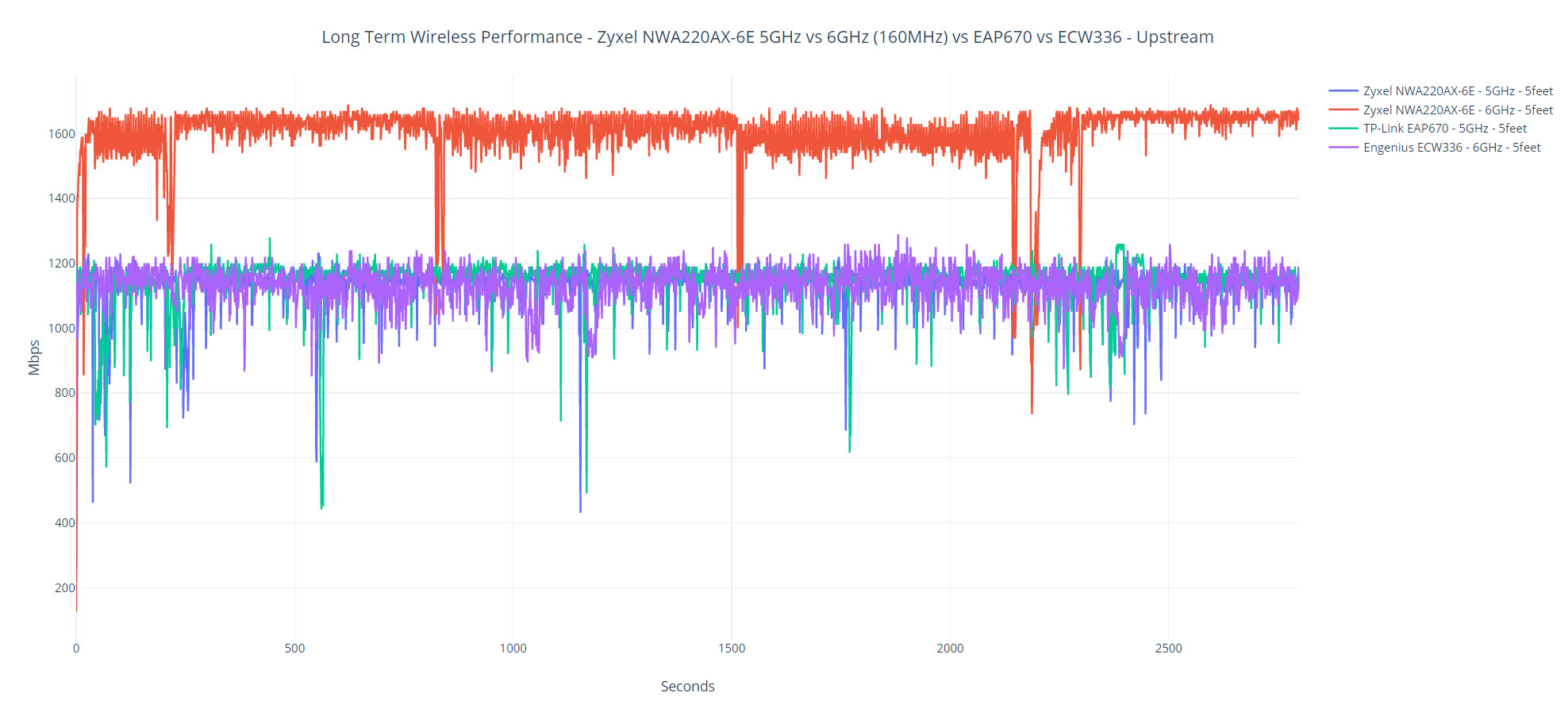 Then, I connected the WiFi 6 client device (AX200) to the 5GHz network (160MHz) and I checked how well the AP performs at various points inside the house. At 5 feet, the throughput went past Gigabit and reached 1.13Gbps upstream and 584Mbps downstream (-40dB attenuation). At 30 feet, it fell to 902Mbps upstream and 394Mbps downstream, while at 45 feet, I measured an average of 383Mbps up and 233Mbps upstream. The farthest point is at about 70 feet (-84dB) and I saw an average of 37Mbps upstream and 17.3Mbps downstream.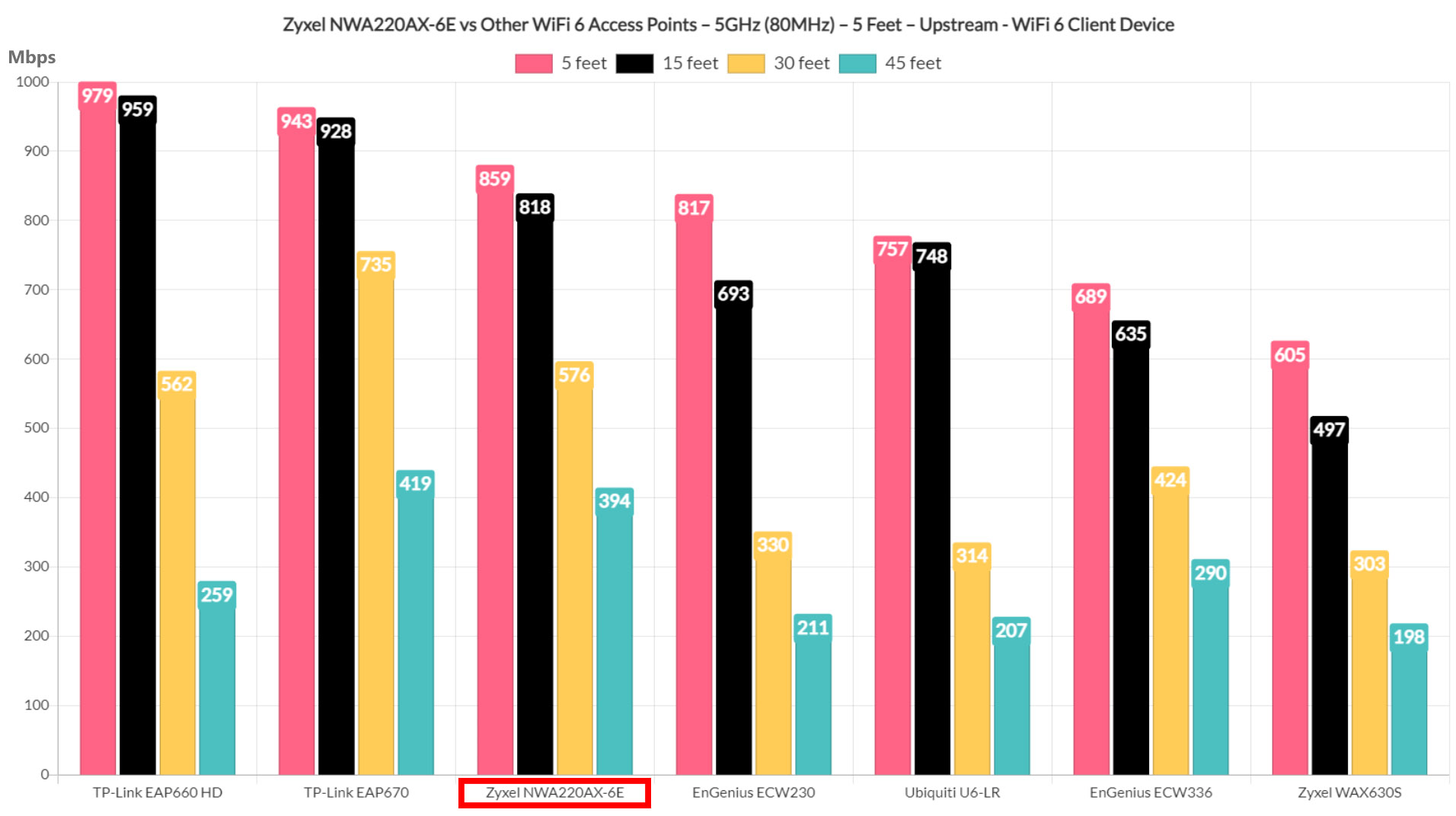 And it makes sense since the 160MHz is not that great with the coverage, but very powerful near the access point – you can also see just how great the performance can be as long as you don't have that much interference.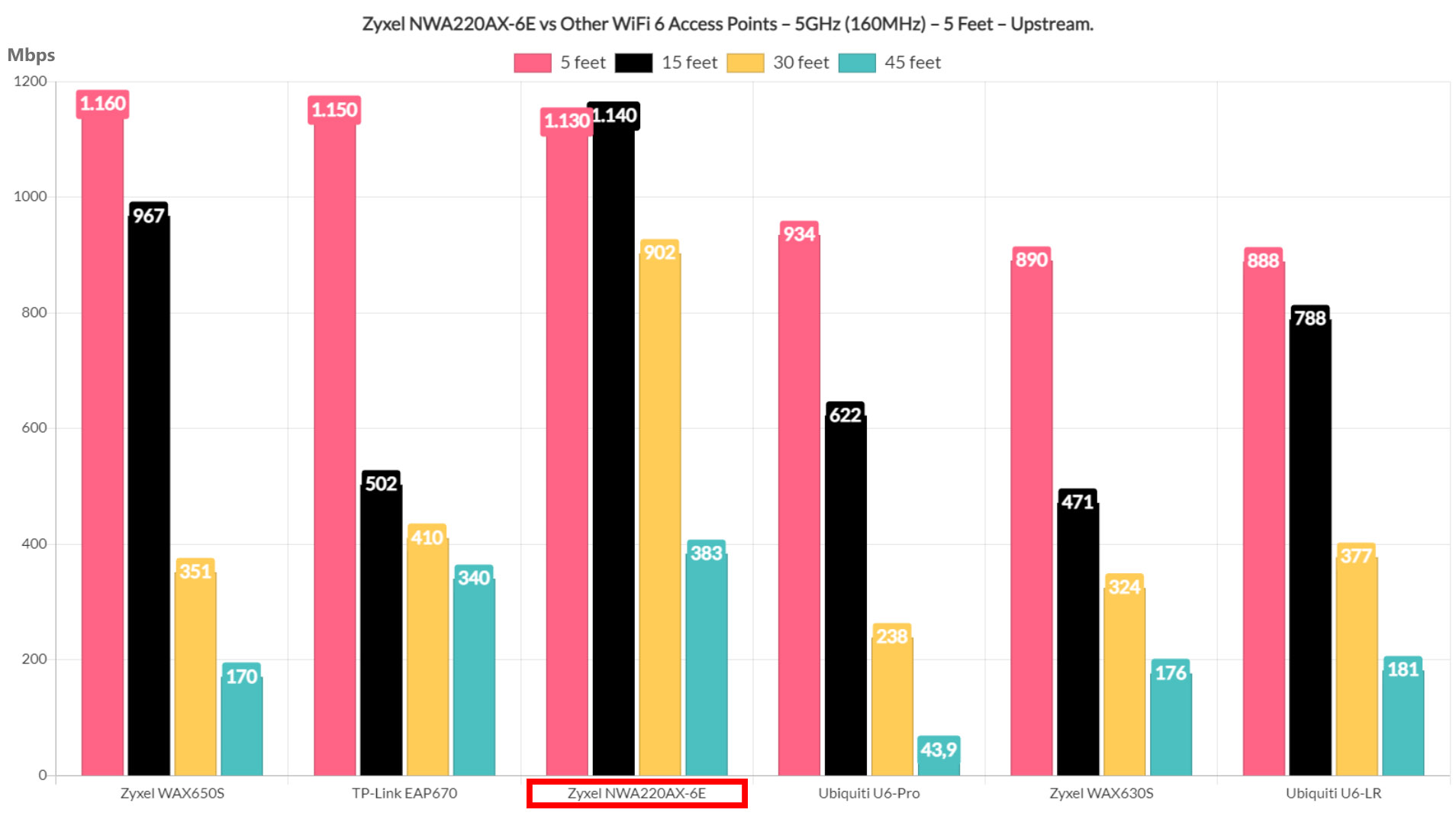 It's not possible to see these numbers in an apartment, hotel or any other crowded area with lots of wireless APs (I wrote a quick guide to the best channel bandwidth for most people). Moving forward, I adjusted the channel bandwidth to 80MHz and, as expected, the speed was not as impressive as before (but far more achievable in slightly more difficult conditions).
At 5 feet, I measured an average of 895Mbps up and 451Mbps down, which is still a very good performance and even at 45 feet (-76dB), the throughput was still fairly high: 394Mbps up and 184Mbps down. At 70 feet, I measured an average of 91Mbps up and 52.8Mbps downstream, which remains more than usable for most applications. The second client device is a WiFi 5 laptop (equipped with an Intel 8265 adapter) and, at 5 feet, I saw an average of 634Mbps upstream and 275Mbps downstream.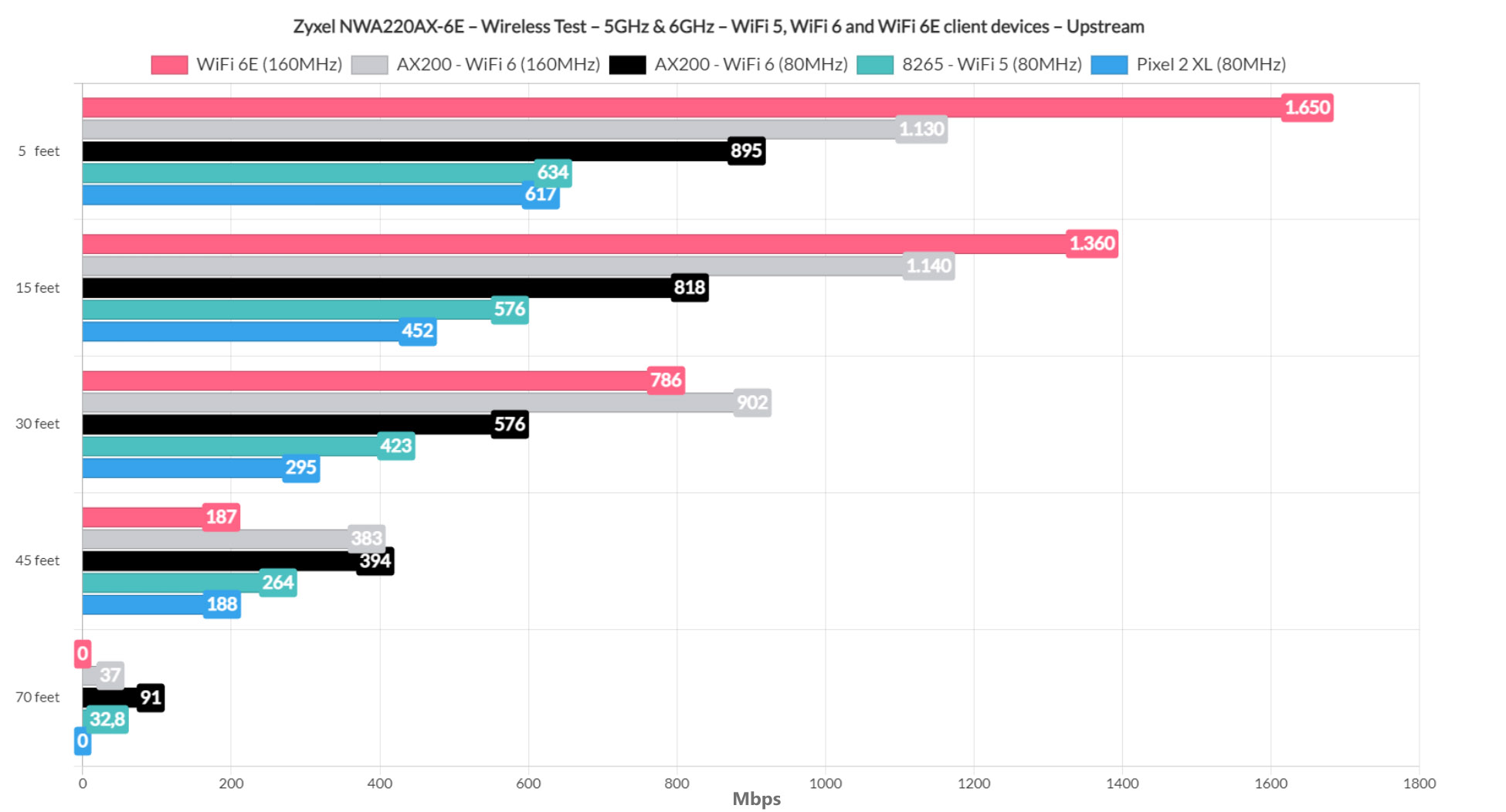 At 45 feet, the speed went down to 264Mbps up and 145Mbps downstream, while at 70 feet, it was still possible to use some light applications considering that I saw an average of 32.8Mbps up and 17.2Mbps downstream. Lastly, I used the Pixel 2 XL (WiFi 5 client device), and it performed decently well.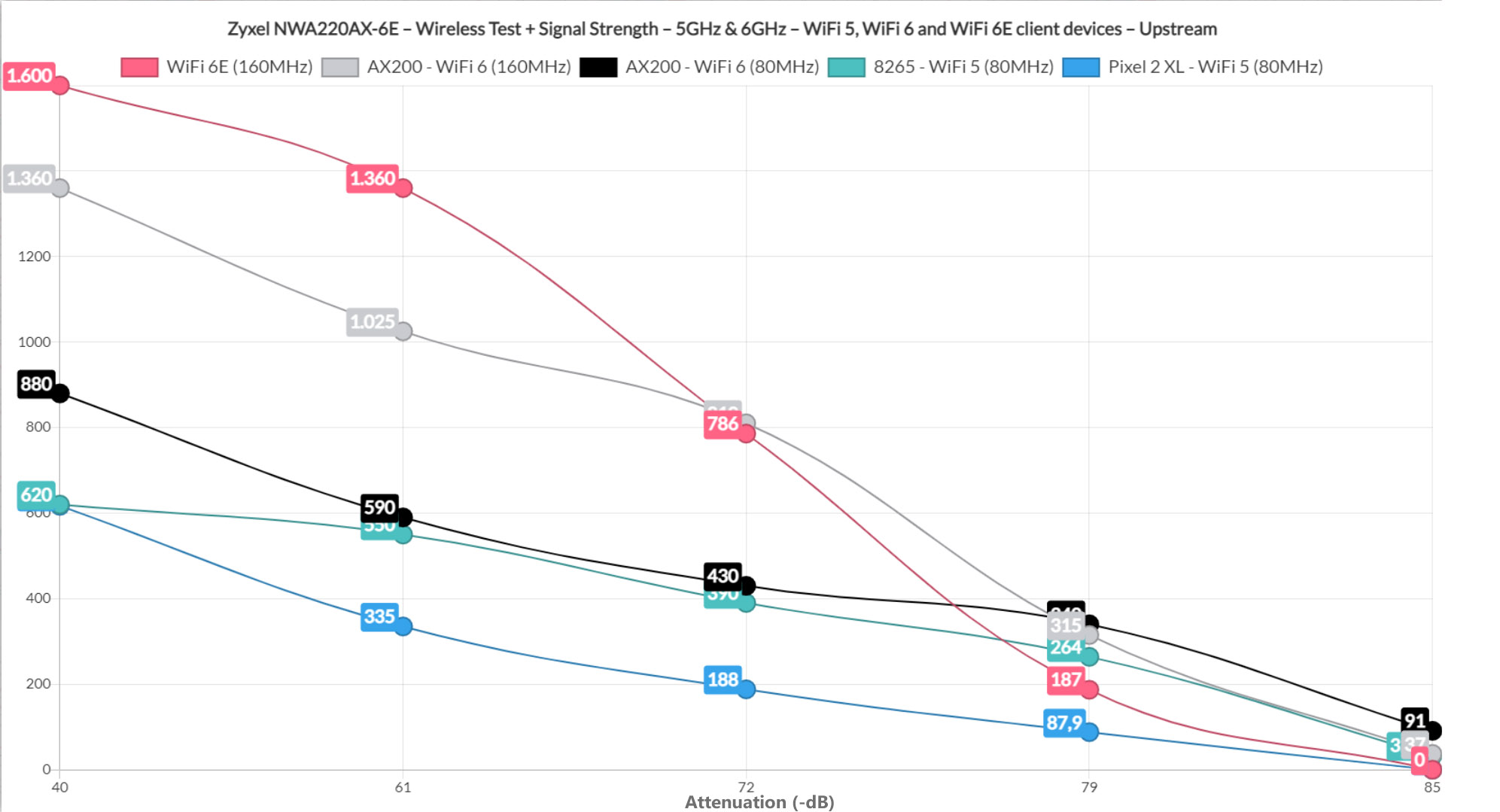 At 5 feet, the throughput was 617Mbps upstream and 384Mbps downstream. But what's interesting is that even if I saw an average of 188Mbps up and 115Mbps downstream at 45 feet (-73dB), at 70 feet, the phone would no longer see the network.
Wireless Test (6GHz)
To be able to run this test, I used the WiFi 6E client device once again (a PC equipped with a TP-Link AXE5400 adapter and running Linux) and, after switching the WiFi network to 6GHz (the 5GHz vanished), I could connect to the server device. Some additional configurations were necessary, such as the use of WPA3. I ran the same test as before and this time, I only used the 160MHz channel bandwidth since it was the most relevant for our case.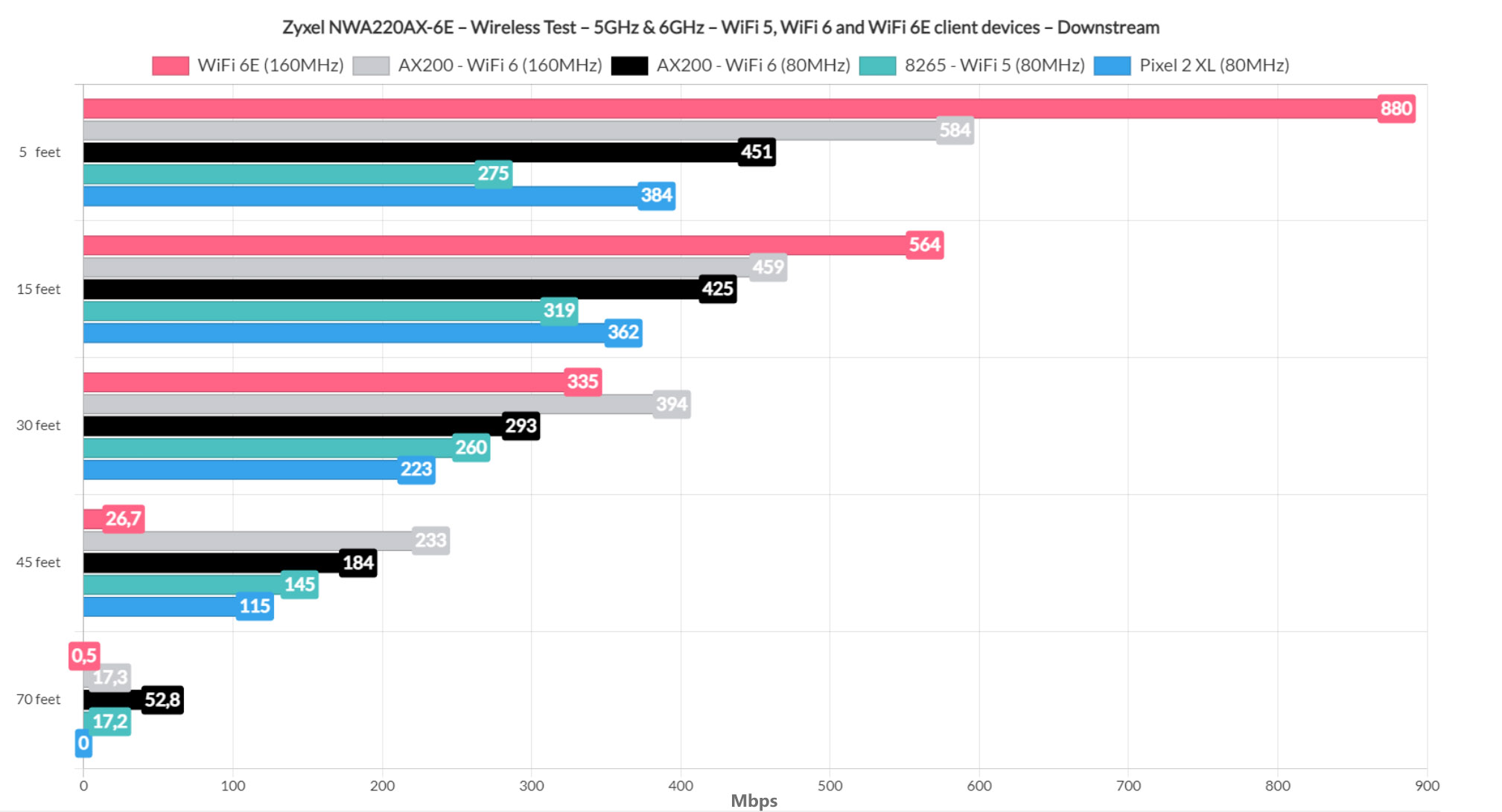 This way, at 5 feet, I saw an average of 1.6Gbps upstream and 880Mbps downstream which was the best performance I have seen so far on a WiFi networking device.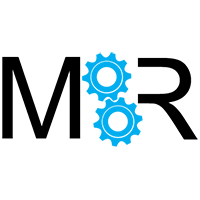 Mark is a graduate in Computer Science, having gathered valuable experience over the years working in IT as a programmer. Mark is also the main tech writer for MBReviews.com, covering not only his passion, the networking devices, but also other cool electronic gadgets that you may find useful for your every day life.