Starlink satellite broadband gets on the go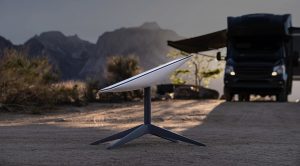 'Starlink for RVs' (recreational vehicles) is a flat panel antenna that allows people to use the service while on the go, for example, mounted on the aforesaid vehicle. An existing standard receiver is intended for fixed, home use.
Elon Musk's company writes of the Flat High Performance Starlink:
"Designed for mobility applications and challenging environments. With a wide field of view and enhanced GPS capabilities, it can connect to more satellites, allowing for consistent connectivity while on the go. The hardware is designed for a permanent installation and is more resilient to extreme environments. Currently the only designated dish for in-motion use in approved countries."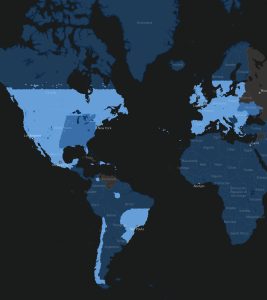 The Starlink Kit consists of the antenna itself, a wedge mount kit, router, router mount, power supply, power supply mount, and cables.
The service – which costs €105/month with a one-time hardware cost of €495 – covers most of North America and Europe, with large areas of Brazil (see above). You can read more about the specifications of the device here. It's not stated when deliveries could be expected.
Works on any moving land object https://t.co/Xu4qKJW4D9

— Elon Musk (@elonmusk) October 25, 2022
Starlink internet service
SpaceX has permission from regulators to launch up to 12,000 satellites and has been planning to send up 42 batches of 60 satellites in a year, to add to its commercial constellation.
The goal is to build a high-speed global satellite internet service, for which Elon Musk's company is in competition with the likes of Amazon and OneWeb. With download speeds of up to 50 megabits per second the aim, apparently, is to support gaming-level Internet access.
See also: Google allies with SpaceX for satellite broadband battle