Solar panels keeping plants in the red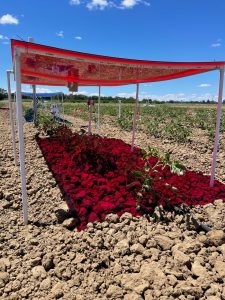 Researchers at the University of California, Davis and the University of Padova have studied a new approach to handling the colour spectrum and how it can be most beneficial to plants. We're talking agrivoltaics and the process of growing crops below solar panels.
Given that it's the blue part of the spectrum that is used for producing solar energy, it could be a win-win: solar panels only allowing red wavelengths through for crops while also generating power…
Modern Farming reports:
"Through computer modeling, Abou Najm and lead author Matteo Camporese, an associate professor in the Department of Civil, Environmental and Architectural Engineering at the University of Padova, found that applying red lightwaves to plants increases photosynthesis and carbon assimilation—the process by which they metabolize carbon dioxide into organic compounds—while lowering transpiration. In other words, under the cooler spectrum, 'crops can get the same amount of CO2 using less water,' he says."
The title cites growing competition for the use of land between solar energy and arable land.
You can read more about the study online, and their analysis of plant sensitivity to light spectral quality.
Image: Majdi Abou Najim, Associate professor at UC Davis
[Via Engadget]
See also: Picture of the Day: Unmanned Solar-powered Sunglider passes tests