Open Circuits reveals hidden design of everyday electronics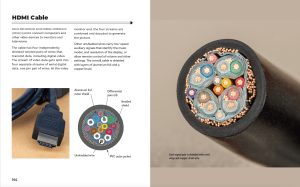 This looks interesting – it's described as a "photographic exploration of the beautiful design inside everyday electronics". Basically, cross-section photography, accompanied by explanatory text, bids to unlock a "hidden world full of elegance, subtle complexity, and wonder". Very impressive it looks.
The publishers, No Starch Press, write:
"Our phones, computers, and appliances are made of hundreds of internal components, each precisely engineered to perform a certain function, but none intended to actually be seen. Through painstakingly executed, vividly detailed cross-section photography, Open Circuits reveals the surprising—and often accidental—beauty hiding inside the electronic components that drive our everyday devices."

"From resistors to LEDs, USB cables to headphone jacks, stepper motors to nixie tubes, the book's arresting imagery transforms more than 130 components into delightful works of art. As you visually dissect the components' insides, you'll learn about how they work and how they were made. Open Circuits has something for everyone to appreciate, whether you're a seasoned electrical engineer, an amateur tinkerer, or simply a lover of art and photography."
Pictured above, for example, is a sliced HDMI cable (a high-tech form of kimbap, almost).
If you're interested in the book, you can download Chapter 1 as a sample (PDF).
Contents
The table of contents is as follows:
Introduction
Chapter 1: Passive Components
Chapter 2: Semiconductors
Chapter 3: Electromechanics
Chapter 4: Cables and Connectors
Chapter 5: Retro Tech
Chapter 6: Composite Devices
Afterword: Creating Cross Sections
Glossary
Authors
In terms of the authors, Eric Schlaepfer runs the popular engineering Twitter account @TubeTimeUS, where he posts cross section photos, discusses retrocomputing and reverse engineering, and investigates engineering accidents. For example, his projects include the MOnSter 6502 (the world's largest 6502 microprocessor, made out of individual transistors) and the Snark Barker (a retro recreation of the famous Sound Blaster sound card).
Windell H. Oskay is the co-founder of Evil Mad Scientist Laboratories, where he designs robots. A longtime photographer, he holds a B.A. in Physics and Mathematics from Lake Forest College and a Ph.D. in Physics from the University of Texas at Austin. He is the author of The Annotated Build-It-Yourself Science Laboratory.
Open Circuits details
Title: Open Circuits – The Inner Beauty of Electronic Components
Authors: Windell Oskay, Eric Schlaepfer
Publisher: No Starch Press
Date: September 2022
Pages: 304
ISBN-13: 9781718502345
Formats: Hardcover, Ebook (PDF, Mobi, and ePub)
Prices: From $31.99
See also: Gadget Book: Build AI-Enabled Drones with the Raspberry Pi 4