Now with expandable storage via the HomeBase 3 and new advanced AI face detection
Eufy Security S300 eufyCam 3C Review Rating

Summary
The eufy Security S300 eufyCam 3C is a superb battery-powered outdoor security camera that is a massive upgrade from the previous generation
Pros
4K footage (when recorded to the HomeBase 3)
Spotlight with colour night recordings
New advanced object detection, including face detection
Cons
A lot more expensive than the older model
HomeBase 3 is not compatible with all other Eufy products, yet
I reviewed the eufyCam 2C over two years ago, and it is probably one of the best battery-powered cameras I have reviewed (I never reviewed the Pro variant).
It was the first battery-powered camera that I was happy with to use on my home thanks to the excellent battery life and colour night time footage thanks to the spotlight.
A couple of months ago, Eufy launched the new S300 eufyCam (eufyCam 3C). I have no idea what they are doing with the naming of this camera. I guess they are phasing out older naming conventions in favour of the new S300 and S330 of the 3 Pro.
This new model brings with it some big improvements from the previous generation, but also a massive price hike. Eufy is definitely targeting the premium end of the market now.
Just like its predecessor, this is an exceptional battery-powered outdoor security camera system.
eufyCam 3C vs eufyCam 3 vs eufyCam 2c Specification
 
eufyCam 3C
eufyCam 3
eufyCam 2c Pro
Resolution
4K (3840×2160)
4K (3840×2160)
2K
1080P for none Pro
Field of View
135°
135°
135°
Night Vision
Infrared & color night vision
Infrared & color night vision
Infrared & color night vision
Spotlight
Built-in, motion-activated
Built-in, motion-activated
Built-in, motion-activated
Battery Life
6 months
1 Year From a Single Charge
A Lifetime with Forever Power
Integrated Solar Panel
6 months
Video Storage
Free local storage: build-in 16GB for 3 months usage
Support HDD/SSD storage expansion, up to 16TB
Free local storage: build-in 16GB for 3 months usage
Support HDD/SSD storage expansion, up to 16TB
16GB EMMC, 3 Months Usage
Smart AI
Facial Recognition
Human recognition (Self learning algorithm)
Vehicle detection
Pet detection
Facial Recognition
Human recognition (Self learning algorithm)
Vehicle detection
Pet detection
Human Detection
Face Detection
Audio
Two way audio
Two way audio
Two way audio
Siren
100dB
100dB
Weatherproof
IP65
IP65
IP67
Voice Assistant
Alexa, Google Voice Assistant
Alexa, Google Voice Assistant
Alexa, Google Voice Assistant
Connectivity
802.11 b/g/n 2.4GHz Wi-Fi
802.11 b/g/n 2.4GHz Wi-Fi
802.11 b/g/n 2.4GHz Wi-Fi
With the previous generation, the eufyCam 2 had a 365-day battery life but lacked the spotlight. I, therefore, preferred the eufyCam 2c. With this generation, the 3C and 3 are almost identical; apart from the eufyCam 3 has a larger battery with a 365 day battery life, which is then extended with a built-in solar panel.
Set Up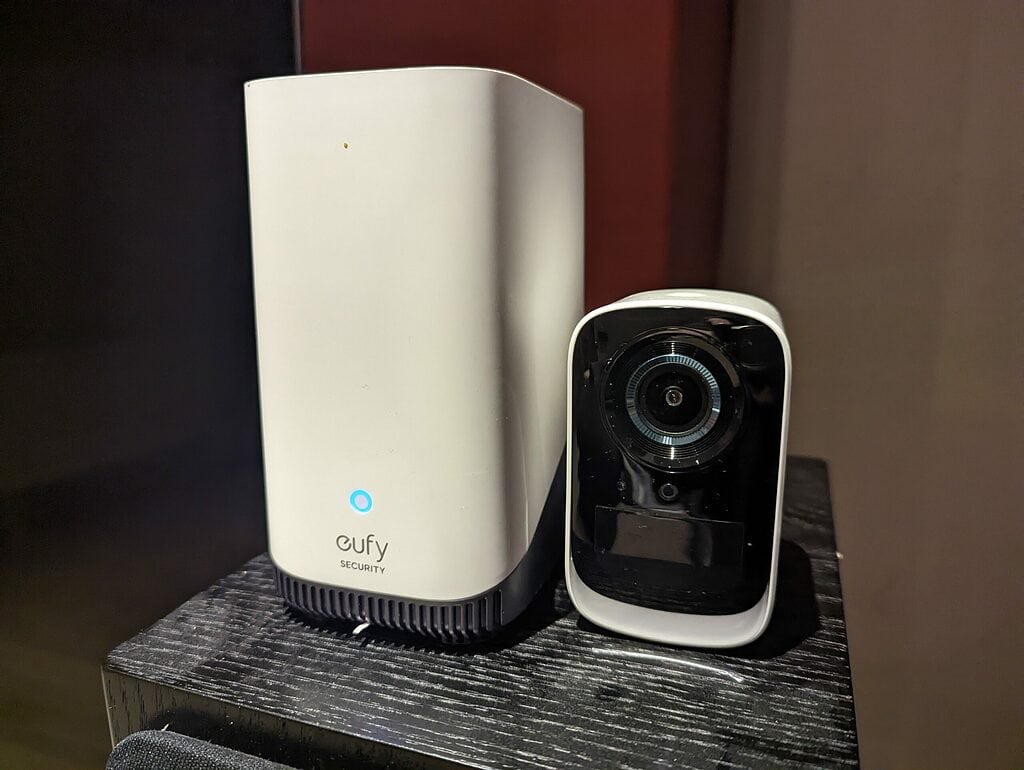 I already have a Eufy account and multiple security products within the app. I just needed to add the new HomeBase and then pair the cameras.
For the HomeBase, at the time of writing, this needs to be wired into Ethernet. This is my standard way of connecting base units, so it isn't a problem for me.
Pairing the cameras is easy, follow the steps within the app and then the HomeBase will let out a high-pitched pairing sound and connect to the cameras.
HomeBase 3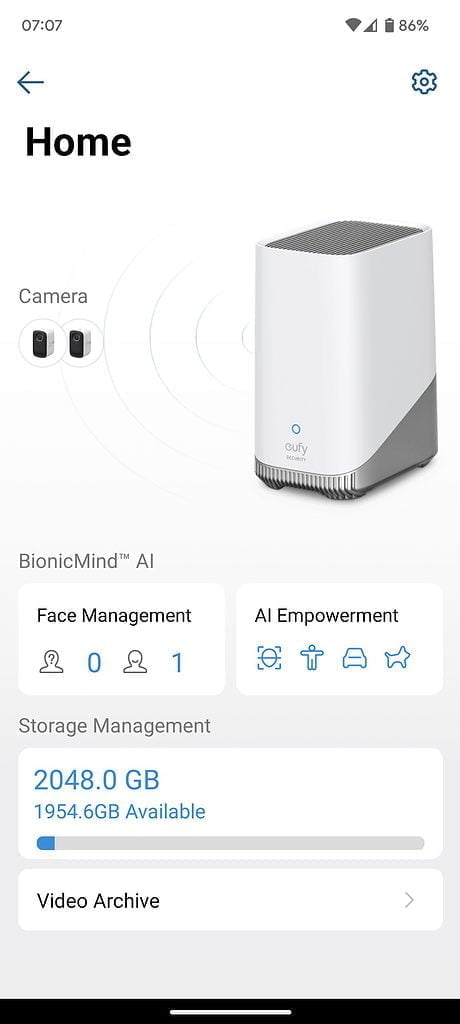 The HomeBase 3 has had a much-needed upgrade and now includes the option to insert a 2.5″ drive. For some odd reason, they claim it has up to 16TB compatibility, but you can only get 2.5″ drives up to 5TB or 8TB for SSD.
Regardless, adding a 2TB drive will increase the storage capacity by about 120 fold. In the two weeks of recordings I have had, it has only used 6GB of normal local storage and hasn't touched my HDD yet.
I assume the HomeBase 3 is also responsible for the new advanced AI empowerment. This claims to provide superior object detection, including familiar and unfamiliar faces.
Eufy states that HomeBase 3 is compatible with all eufyCam models, eufy Battery Doorbells (except E8213), and eufy Sensors. It will be compatible with all eufy Security devices by the end of 2022.
I attempted to add the Eufy Dual Camera Doorbell and the SmartDrop parcel box to the HomeBase 3, but neither worked.
At the moment, the HomeBase 3 can only be connected to your network using an ethernet cable at this time. It will be able to connect to your network via Wi-Fi after a software update expected at the end of December 2022.
Day Time Recordings
For a battery-powered camera, the day time recordings are excellent.
Local videos are recorded at 3840×2160 with an overall bit rate of 1893 kb/s using HEVC.
If you use the cloud recording, footage is recorded at 1920×1080 pixels with a variable bit rate that averages out at 821 kb/s and a frame rate of 15fps using the AVC video codec. I'd therefore avoid using this if you want good-quality footage. I accidentally set this up for all my cameras when reviewing the SmartDrop parcel box.
A recording of 9 seconds takes up just 1.9MB, so if you have upgraded the storage on the HomeBase, you are going to be able to store many months' worth of recordings. If it didn't have a negative impact on the battery, I would crank the recording time up as much as possible.
Night time Recordings & Spotlight
Thanks to the built-in spotlight, night time footage is also excellent. I have a lot of bright streetlights near by, so I probably could get away without the spotlight, but it does help.
As always, with low light footage, you lose a bit of detail, but the advantage of the colour recording is that you can make out more defining features of anyone entering your property.
Like all cameras, but especially battery-powered cameras, these work better when placed as close to the subject as possible. My camera, which is placed on the 1st floor, is good for getting a general idea of who has entered the property, but you lose a lot of definition on the face.
Motion Detection
The HomeBase 3 claims to have a new advanced object detection using AI empowerment.
This now has facial recognition, and you can upload your photo to the system, and it adds you as a familiar face. It will then automatically identify your body shape and allow you to add this.
It should recognise unfamiliar faces and then give you the option to add these to the familiar face section. However, I have had mixed results with this. Facial recognition needs the camera located quite close to the object. The Eufy documentation says it needs to be 2-4 metres away for facial recognition, 2-7 meters for body shape and 2-8m for human detection.
Four meters is not a very long distance. It is a bit longer than twice my height. So, you need to factor this in when placing your cameras.
With my face uploaded, the camera was able to identify my body. It also successfully identified me when walking past. However, it hasn't properly identified unfamiliar faces yet.
I have always found Eufy good with the advanced object detection features, but it is worth noting that these are rarely perfect. It is not uncommon for cameras to be a bit slow at recording an event and only partially capture a person. From what I can tell, this has not happened yet with the eufyCam 3C, and I have so many cameras on my house it is not a huge issue for me.
Battery Life
The 180-day battery life is an exaggeration, as always with these devices. I have my cameras on the default settings. That's optimal battery life with the medium spotlight setting. I have human and face detection enabled with a motion zone set for my garden.
The camera pointing down to the gate has been running 18 days and has had 374 detected events and 86 recorded activities.
The camera located on my fence has been on for 18 days and has 350 events but 99 recorded events.
So, I will get well over 2 months. That may seem poor for the quoted rating, but if we look at the Arlo Essential XL I just reviewed, which has a 365-day rating, that was likely to run flat after about 50 days. Looking at the information from my review, that was recording about 8 events per day while the eufy has been recording 6. So maybe about the same battery life, but the Arlo records at 1080P and claims twice the battery life.
Range
The range of the eufyCam 3C cameras connecting to the Homebase is excellent. There seems to be a significant advantage compared to cameras that connect directly to Wi-Fi.
I have quite large rooms, and it's a typical UK brick-built house.
I have the HomeBase located in my main living room, which is central to my home. One camera is located outside the bedroom window which is up one floor and then two rooms over.
The camera on the fence is then located across the garden. I am fairly sure that 2.4GHz Wi-Fi wouldn't normally extend this far, so I am not really sure how they achieve this. I guess the low bit rate only needs the weakest of connections.
Price and Alternative Options
The eufy Security S300 eufyCam 3C with two cameras is priced at £469.99 RRP and is currently on Amazon with 30% off for £329.99 ending on Cyber Monday 2022.
The eufy Security S330 eufyCam 3 2-Cam Kit has an RRP of £499 and no current discounts.
At the RRP, I am not entirely sure why you'd get the 3C over the 3. I'd happily pay £30 for the massive increase in battery.
The previous generation eufyCam 2c is £220 RRP and currently just £130 with the Black Friday sales, which is a bit of a bargain. When I reviewed the eufyCam 2c, the RRP was £250.
With the higher prices of these new eufyCam systems, they are now at a similar price point as Arlo.
The Arlo Ultra 2 two-pack system is £380, though the XL model is £670. Or you can get a three-pack Arlo Pro4 for £340 during Black Friday or the 2 pack + hub for £400.
I do like the Arlo products, but I prefer eufy due to the superior battery life and local recordings with no monthly fee.
Overall
The eufy Security S300 eufyCam 3C is a superb battery-powered outdoor security camera. Just like its predecessor, I'd say this is the best camera in its class that I have reviewed. I will likely continue using this system as a permanent feature in my home.
The big jump in the RRP is a tough pill to swallow, but you get a significant improvement in features and performance. The current Black Friday deal brings it down to a much more reasonable price.
It is odd that there is such a small difference in the RRP between the S300/3C and the S330/3. When looking at the RRP, I'd probably opt for the S330 due to the superior battery life, but you will need to check on prices and find what discounts are available at the time.
Last update on 2022-11-24 / Affiliate links / Images from Amazon Product Advertising API