Jason F and Doug H — Veo Robotics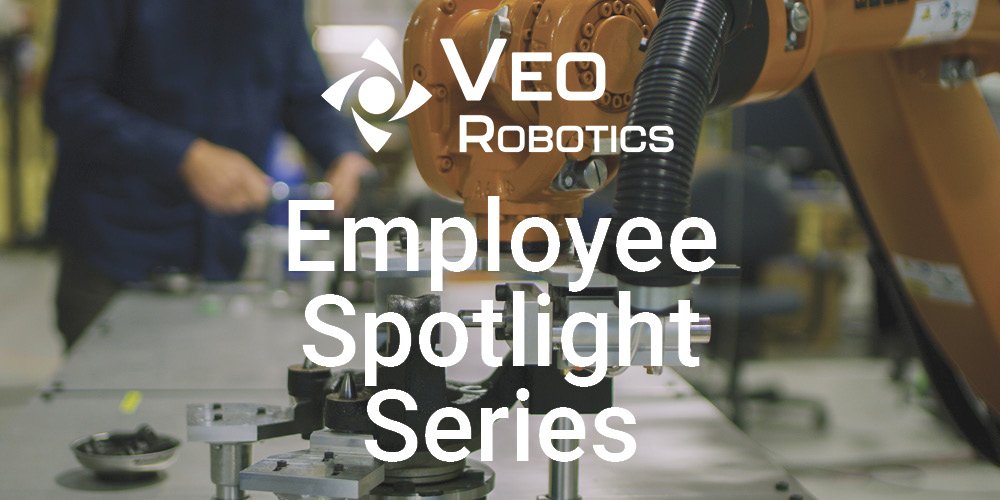 Q: Tell us a little bit about your background and what led you to Veo Robotics.
JF: I've worked as an industrial controls engineer for most of my career, both at an equipment manufacturer and an end user of industrial equipment. I came to Veo to expand my experience, and to support the work being done. Having seen first hand the need for a system like FreeMove, it was an easy choice to make.
DH: I have worked in the robotics field for almost 20 years now. I love robotics and new technology. With new technology comes new adventures and sometimes that means packing up the family and moving where the cool people work! So, we packed up and moved to Massachusetts from Illinois and love it here.
Q: What are some of your favorite things about your current role at Veo? What's the best thing about your job?
JF: I work with very, very smart people, and the work challenges me continually.
DH: One of my favorite things here at Veo is the collaboration between groups. It is great to work with each group and help out. I also enjoy the collaboration of the groups to figure out what we need to build as far as our applications team. Each of the team members here at Veo listens to what the other team members have to say and responds with compassion about the topics at hand. Our people here really are great people to work with. 
Q: What excites you about FreeMove®'s technology and capabilities?
JF: So much! At a previous job I was tasked with evaluating and adding power and force limited robots (cobots) to production lines. What I found with that was a huge gap between what we actually wanted out of a system of that type, and what was available. Having a volumetric 'picture' of the workcell opens up a lot of potential that we are just getting started with.
DH: Our engine, sensors, and software are going to change the way integrators safeguard robotics and eventually automation in general. The ability to detect a human in 3D space and ensure the safety of the human with no guarding will help our end users leverage shop floor space and many other aspects. This will allow them to install more automation and install equipment that exceeds the current industry standards while adding to the bottom line of their company.
Q: What is your fondest memory with the Veo team?
JF: Our first trade show trip in 2019. We spent a few days at FabTech in Chicago, and had a great time exploring, checking out what was on offer at the show and in the city.
DH: Being rather new to Veo, I am building these memories day-to-day! I am not sure I have a favorite at this point but if I had to pick something it would be our day-to-day interactions with all of our folks at Veo. We ALL manage to get a tremendous amount of work completed and there is always a great joke, discussion, or some "Boston " thing that comes up that makes me laugh. Stories from trade shows usually end up on the top of the list so I cannot wait to see where the stories will end up!
Q: What's the number one thing on your bucket list?
JF: Getting to at least low-earth orbit, if not space proper.
DH: I do not have a bucket list! I had a great friend tell me that you had better "live along the way" because you never know when it will be over. So with that, we live in the day-to-day and enjoy every minute and when we get a crazy idea to do something, we do it! My wife is not a fan of this.
Q: When you're not at work, where can people find you?
JF: At home or the playground with my kids and creating things from scratch, whether it be baking, coding, woodworking or something else.
DH: I really enjoy my family. I was lucky enough to marry my high school sweetheart and we have 2 great children, Hannah, 16, and Noah, 13. I  enjoy 3D printing, forging with my son, woodworking, cooking/grilling, the outdoors, farms, fishing and spending time with my family. We have been to the beach about 60% of the weekends since we moved here and even have been known to swim with an Irish cold water swimmers group this winter a time or two. Our last swim was 40 degree water temps! "New England," as all you Bostoners call it, has been a great adventure for my family and I and we are settling in and becoming "New England Folk."