Edifier MR4 Studio Monitor Review- Are these the best budget studio monitors?
Edifier MR4 Studio Monitor Review Rating

Summary
It is hard to fault the Edifier MR4; if you want an affordable pair of active studio monitors, then these need to be on your shortlist.
Pros
Outstanding performance for a studio monitor at this price point
Cons
Slight dip in the lower treble
The Edifier MR4 was launched last year, and these appear to be the first speakers that Edifier classes as studio monitors. These are designed to be more accurate than other speakers, and they are normally used for production work.
Specification
Smooth frequency response for great audio reference
1-inch silk dome tweeter and 4-inch diaphragm woofers deliver pure sound
MDF wooden cabinets minimise acoustic resonance
Simple connection to mixers, audio interfaces, computers or media players
Front-mounted headphone output and AUX input for convenience
Multi-functional knob for power, volume and sound effects toggle
Monitor and music modes to fit various scenarios
Design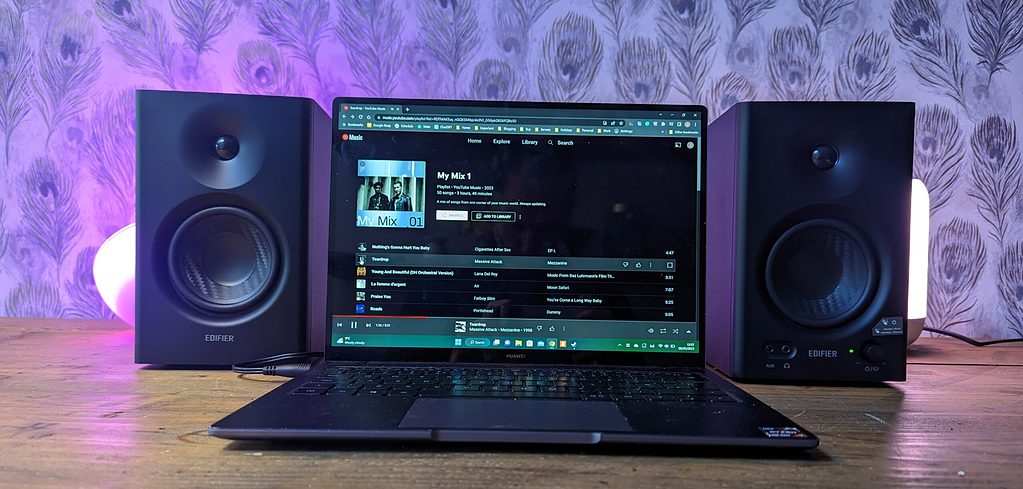 The Edifier MR4 adopt a generic but attractive design for studio monitors. They are smaller than they look in press shots. They only stand a little bit taller than my 14" laptop when open.
The right speaker is powered with aux and headphone jacks, the volume and power knob, and on the rear is the bass or high dial.
The left speaker is passive and wired up by a relatively thin speaker cable. These are also physically quite light and this is to be expected at this price.
With these being studio monitors, Edifier has kept the price down by omitting some features you find on other Edifier speakers. This includes a remote control, optical input, and no Bluetooth. Personally, I think these are all non-essential for a budget speaker.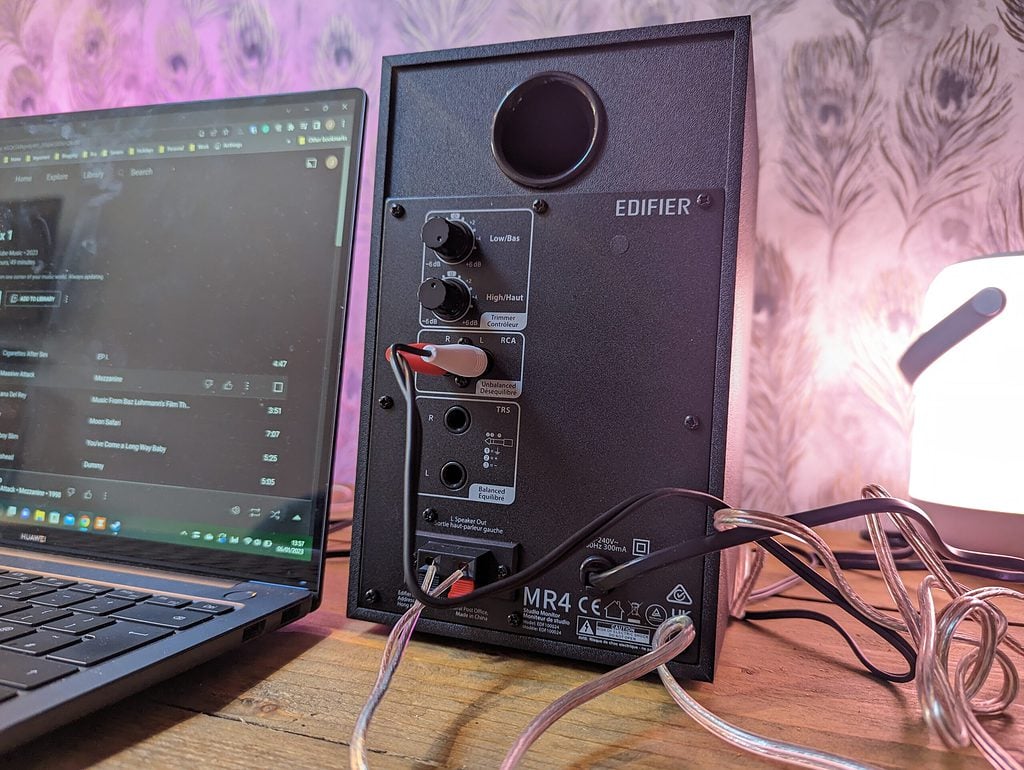 Sound Quality
My own brother has criticised my audio reviews because I regularly give praise to earphones and speakers that have a bass-forward sound profile. So, you'd think these are not to my particular tastes, but I actually really like the sound they produce.
You can tweak the sound to be a bit more to your liking with the bass or high dial on the rear of the speaker, but it is only a relatively small difference.
I wouldn't describe the overall sound as flat, but it is well-balanced. There is no noticeable bass bleed into the mids, nor do I experience much harshness in the highs. I'd probably say the overall sound leans towards being a touch warm.
I tested across multiple genres though my main choices are punk, metal, electronica and hip hop, and I performed well across all these genres and many more. I can also appreciate the added detail you get from using a studio monitor vs a normal bookshelf.
Even though I do enjoy the sound, I find that the sound quality peaks at around 50% and going beyond this, I feel like the overall performance deteriorates a little. The highs start to become a little sharp, and the bass struggles to keep up, with some distortion being added. I'd say this is to be expected; these are both quite small, light and certainly budget studio speakers; they were never going to offer the same power as the 20kg Edifier S3000 Pro.
While this is supposed to be a review from myself, and I don't usually pay too much attention to other reviews when I write, I don't have the equipment to test the accuracy of speakers. With these being advertised as studio speakers, I thought it was important to provide some objective data rather than my subjective opinion of what these sound like.
Audio Science Review seems to be one of the best sources for objective data, and they reviewed the MR4 roughly a year ago. As geeky as I may be, audiophile geekiness goes to the next level, and a lot of the data is beyond my comprehension. However, the overall conclusion of these speakers is that they are accurate across frequencies with the exception of a dip in the lower treble. While that may not be perfect for a studio speaker, there are not many speakers at this price point that can perform quite as well.
Price and Alternative Options
The Edifier MR4 studio monitors are priced at £130 on Amazon. At the time of writing, Overclockers has them cheaper, but they charge £11 shipping.
The M-Audio BX4 seem to be one of the most oft-recommended budget studio monitors. They are a few years old now but are priced attractively at £100 and could be worth considering as a cheaper alternative. There is also the M-Audio BX5 which are more expensive at around £190 for a pair.
The Alesis Elevate 5 MKII are another popular choice, priced about the same at £125.
Overall
It is hard to fault the Edifier MR4; if you want an affordable pair of active studio monitors, then these need to be on your shortlist.
I normally like to find things to criticise, to the point of being nit-picky, just so I don't come across as a shill, but there isn't really a great deal to criticise when you factor in the price. Perhaps, just be aware that with these being affordable, they perform best at moderate volumes and struggle the higher you go.
Last update on 2023-01-11 / Affiliate links / Images from Amazon Product Advertising API